There was no other favorite pet of Steve's than his Mickey. A cat of many personalities. Feisty, fluffy and furry - all in one. Back in 1998, Steve chose Mickey from many other caged kitties at the Humane Society in Sheboygan, Wisconsin. His other beloved kitty, Daisy, had just passed away at age 14. And so Steve wanted another cat. Little did he know that Mickey would come to far surpass Daisy - and all the other cats that Steve's family ever had - in purrsonality and purrsonal appearance. He was Steve's purrfect cat.
CLICK TO ENLARGE PHOTOS
Steve also had two Eastern box turtles that were dear to him - Malley and Duncan. Malley is pictured below.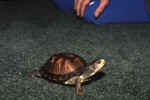 See the Turtle Pit page for a look at the summer enclosure he made for Duncan and Malley.