Photos from 2001 Memorial Service to celebrate
The life of Steve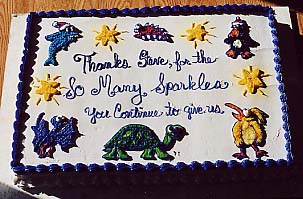 Steve's friends gather on the deck at his home after the memorial service at church.

Steve's mom Denise (center) with his friends (from left) Sam G., Sadie W., Leah K. and Ang P.

Tamara and Amethyst plus others enjoy a bite to eat.

Steve's mom Denise is joined by his dear friends Jessy N. and Sean S. Sean read a poem he wrote in Steve's memory at the service earlier that day.

Matt F. helps himself to food at Steve's home after the service.


2001 Memorial Service selections

Songs included:

REMEMBER ME THIS WAY from Casper

I'LL REMEMBER by Madonna


Scripture readings were:

We walk by faith and not by sight
2 Corinthians 5: 5-8

The Good Shepherd
John 10: 11-18


Petitions (written by Sean S.):

For those suffering from depression, that they seek the help and find the strength they need to get through it, we pray to the Lord.

For everyone with suicidal thoughts, so they may realize how special and precious life really is, we pray to the Lord.

For the friends and family of people with these illnesses, that they have faith and express the love that's needed to see it through,
we pray to the Lord.

For all those in the military, so that they are protected from harm
in this time of war, we pray to the Lord.

For the whole world, that someday we will live in peace and unity,
we pray to the Lord.


A message from Steve

The words below were written by Steve on September 26, 2000. His words are a message to all he knew, the final thoughts he wanted to leave us with.
...If I can, I will be with you,
even if you don't know I am there…
Use this to grow yet closer to each other…
so that you might deeply enjoy the rest of your life,
even though at first it might not seem possible…
Fight your depression until it dies.
You have the weapons…each other…and a hopeful future…
Listen to music. Do what you enjoy most.
These are things you must do.
You don't have a choice…
Tell everyone that thinks that they and I have a grudge
or any kind of problem, that it has been forgiven,
dropped, and forgotten about.
And it has…
I love you all, and…I hope for the best for everyone,
myself included.
I know and truly believe that I will see you all eventually,
If not for a long time…
Until then,
Tuesday, September 26, 2000


Many thanks to all those who participated in this celebration of Steve's life including Father Kevin Wester, planners Sean S., Anna M., and Jessy N., readers Sandi D., Tammy B., and Erin K., and all those who shared memories of Steve. Thanks too to Jill N. and Karen E. for their kind help that day.