Wednesday, September 27, 2000. It was a mild early autumn day. It was also the last day of Steve's life on this earth. September 27 was the start of a new and unknown phase in the lives of Steve's family and friends. We had to begin the process of learning to go on without him here in body, but with us all in spirit. Many people have offered words in memory of Steve. Some are linked to this page. Others are to come. If you have a memory you'd like to share, email us at bpazur@excel.net.
CLICK TO ENLARGE PHOTOS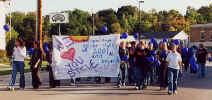 Remembering Steve - Plymouth High School seniors march in the homecoming parade in Steve's honor on Friday, September 29, two days after he died. They carried balloons in Steve's favorite color, purple. The balloons were released on the banks of the Mullet River in Plymouth at the end of the parade (see photos below).
From What...Is The Point?
Volume 1 Issue 2 Winter 2000
Student literary magazine
Plymouth High School
Plymouth, Wisconsin
Inside Us All
Suicide is a very permanent solution to a complicated problem that not everybody may understand. On September 27, 2000, Plymouth High School students learned the truth that lies in this statement. We want to make it very clear that we are not promoting suicide as an option, we are only recognizing the person that Steve Pazur was.
For every person Steve came in contact with, the way he touched them was different. Some people saw his creative side and shared art and writing with him. Others tapped into his ability to sit and talk about absolutely nothing endlessly. Some people shared Steve's love for playing pool and spent hours playing games together. Some shared his views on the world. Some people just shared his sense of humor. It doesn't really matter what one saw in Steve specifically because no matter what it was, one lost it physically, and it turned into memories. Steve will always be carried on in the hearts and minds of the class of 2001.
Steve's death caused us to lose many great things that could have been prevented. In the future, we should hold the idea that together we stand and divided we fall. Let's embrace this idea as a whole and help each other through all of the things that will seem to be insurmountable.
- LK & AP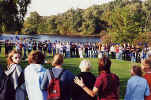 click to enlarge
Memoir of Stephen W. Pazur a.k.a. Jones
by Sean Sagal
Steve, when I awake and you're not around,
I start to cry and fall to the ground,
I miss our talks, tea, and pool
The smiles I got in the halls of school,
The wisdom that you personally endeared,
And all the things together we feared,
I miss the way you loved to draw,
I miss the visions that only you saw,
I long for all the things we've done,
The good times we had and all the fun,
All of our dreams that'll never come true,
And all that we were supposed to do,
To hear your laugh is what I wish,
So you could tell me about the fish,
And all the others you created,
Believe me Steve you were never hated,
Most of all I hope you at rest,
Because my friend you deserve the best,
My love for you never ends,
You've always been one of my best friends,
Though I struggle to say goodbye,
I still find myself asking why,
God is good and God is great,
But in the end you can't escape fate,
I promise to watch over those you left behind,
Just remember you'll always be in out hearts and mind!
Sean Sagal a.k.a. Juggie Jones 2/26/01
The poem below was written by PHS senior Ashley P. on September 28, 2000
In memory of Steve Pazur
If we could have changed the dark to light,
We would have done it to make things right.
If we would have know you felt such pain,
We would have been there to listen,--not to complain.
If only we knew, what was wrong with you,
We could have been there to help you through.
You made us laugh on a bad day and when we needed someone--
you never turned us away.
The pain we felt when we found out,
Couldn't be explained, as we wandered about.
A group of us left school that day,
The pain was too great for us to stay.
We all stayed together to talk about you,
There were so many memories when the skies were blue.
We remember your pictures and the parties you threw,
Your laughter and smile was enough to make do.
Hey Jones, we miss you and we won't let you go,
You'll always be remembered, just so you know.
A memorial, a tribute is what we wanted to do,
So we all got together to make this come true.
We got purple ribbons and hung them downtown,
We won't let your memory fade to the ground.
Homecoming this year was dedicated to you,
The whole senior class stood wishing dreams would come true.
We can't believe you're actually gone,
But your memory will stay and always live on.
Senior year just won't be the same, returning to classes that you were once in,
Seeing your locker so empty and dim.
Steve, we love you and we always had a blast,
We just wish that this goodbye wasn't our last.
So please, Steve, remember all the times that we shared,
Because your friends and the Jones' always will care.

The following poem was written by PHS graduate Rhiannon S. in memory of Steve
Smile
They never saw it coming,
Expected not a thing.
But little did they know,
What the passing days would bring.
It happened without warning,
Sad and tragic event.
Suddenly he was gone,
Their emotions twisted and bent.
Now is a time to grieve and cry,
Their minds are filled with sorrow.
But when it's their time to join him,
He'll be waiting with a smile.
STUDENT EULOGY
Delivered at Steve's Mass of the Resurrection at St. John the Baptist Catholic Church, Plymouth, Wisconsin, on October 2, 2000. By one of Steve's very best friends in the world, Jessica N. These are Jessy's own words, composed by her the day after Steve died.

Some things that I am going to miss the most about Steve is the way he would just give me the biggest hug when I would see him. He always made me feel 100 times better after I saw him. Steve was just that way.
I will also miss the pictures he would draw me. Steve's artwork is all over my room. All the pictures are hanging on my wall. The way he expressed himself in his art was amazing.
Some other things that I will never forget are all the inside jokes we had, from nicknames to drawings and even some songs. They're what always made us laugh.
I could just go on forever about all the stories and things we talked about. Not only did we joke about small things, we also could talk to each other about other things, too. We always told each other when we were having a bad day. And with that we would make sure we wouldn't leave each other without feeling better about whatever was bothering either of us. Steve was always good at that.
I know that we can make it through the death of Steve if we just stay strong and remember one thing.
He would never want to see us sad. That was one thing he was good at. He always wanted us to be happy. He never let someone stay upset for very long. He had his own way of making you smile or feel better. So, now we need to be there for each other, and make sure we can be happy again.
Steve truly had a heart of gold.
I know that he is up there with God.
Below is the introduction to a scrapbook given to us by Nicky P. Click to enlarge.
Left: Nicky P. and Nikki P. with the Grain Brothers - Oats, Barley and Wheatley
Right: Tammy's tattoo of Steve's penguin